Reverse Air

Dust Collectors
LDX Solutions has grown from being a leader in portable reverse air dust collectors to a company that now provides a host of solutions for particulate matter. With our comprehensive product line & over 75 years in Air Pollution Control (APC), LDX Solutions has the expertise to bring uniquely valued solutions to any situation. 
Dustex

®

Pulse Jet Fabric Filter

Geoenergy

®

 E-Tube

®

 Wet ESP (Electrostatic Precipitator)

Dustex

TM

 ST Series of high efficiency single tube cyclones

Dustex

TM

 PC Series of heavy duty primary pre-cleaner cyclones

Dustex

TM

 ST-10 Series of steel high efficiency multiple tube cyclones

Dustex

TM

 M-40A cast aluminum multi-clone cyclone

Dustex

TM

 series of cast iron multi-clone cyclones
Wet ESP at a Biomass Plant in Arkansas
Incinerators (hazardous waste, sewage sludge)

Multiple Hearth Furnaces

Metallurgical Smelters and Roasters

Sulfuric Acid Plants, Sulfuric Acid Mist (SAM) Removal

Wood Dryers Including: oriented strand board (OSB), medium density fiber Board (MDF), particle board (PB), industrial wood pellets

Panel Board Press Vents

Insulation Manufacturing (forming curing, spinning wool chamber, melter exhaust, gutter exhaust)

Industrial Boilers: multi-fuel fired, wood fired, hog fuel fired, tire derived fuel (TDF), fuel oil fired

Food Products including French fry plants

Tire Manufacturing

Blue Haze Abatement

Refinery Fluid Catalytic Cracking Units

Oil Field Sour Waste Gas Incineration

Clean-up Downstream of Wet Scrubbers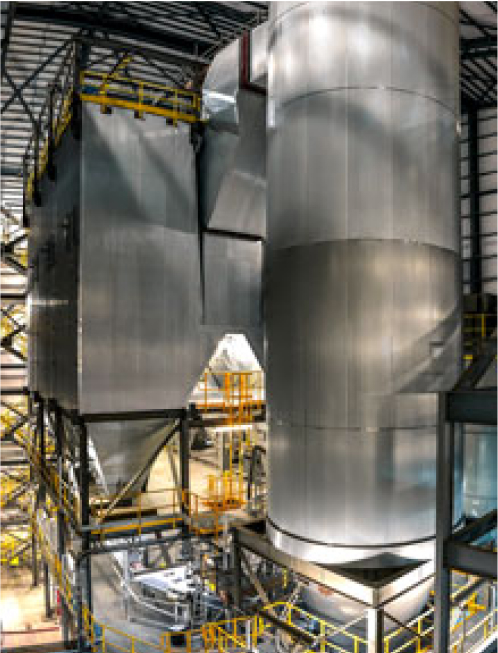 LDX Product & Solutions for

Particulate Matter Collection
Find out how LDX Solutions can Optimize your Industry
Further making us the best solution for your Particulate Matter Collection needs is our unparalleled service & life-cycle support.​ See how our Aftermarket team can keep you online & make you more profitable, regardless of the equipment you currently use.