The Application of

Evaporation Technologies
LDX Solutions is a leading supplier of evaporation technology. Applications of our technology include full sets with integrated condensate strippers and high solids concentrators, reconfiguration of your existing evaporator systems, blow heat pre-evaporation systems, and flash evaporators. The technology utilized is matched to the specific requirements of each application.
Evaporation Technologies
LDX Solutions offers a full range of Lundberg tubular evaporation technologies, including falling film, long tube vertical, and our enhanced flooded forced circulation designs. Our experience in evaporation ranges from ethanol production to classical softwood or hardwood kraft black liquor systems found in pulp mills. We are also proficient in dealing with difficult to evaporate liquors, such as wheat straw and bagasse.
The application of our technology includes full sets with integrated condensate strippers and high solids concentrators, blow heat pre-evaporation systems and flash evaporators. The tubular technology utilized is matched to the specific requirements of each application.
A Leading Supplier
LDX Solutions is the leading supplier of engineered modifications to existing evaporator systems. We have the solutions for a wide variety of issues including capacity increase, higher product solids, steam economy improvement, condensate segregation and liquor carry over reduction.
Multiple Effect

Evaporators
LDX Solutions offers full sets of Lundberg evaporators including integrated concentrator and condensate stripping systems as appropriate.
The systems that we offer are designed to handle the particular nature of the liquor involved, from the easiest softwood liquor to the most difficult of liquors including bagasse and wheat straw. We provide systems for all types of cooking processes including kraft, sulfite and soda-based systems. All of LDX Solutions Lundberg evaporator systems are of tubular design. We consider a number of factors in the design of an evaporator system to provide the best solution for the liquor involved, including economy, scaling tendencies and desired product solids.
The liquor flow sequence for the evaporator system is designed to maximize the system steam economy and condensate segregation. The number of evaporator effects can be anywhere from five to eight effects, depending upon the customer's needs and the technologies selected.
1st & 2nd Effect Falling Film Bodies
The heat from the condensate stripper may be recovered in the evaporator set through integration of the reflux condenser. The reflux condenser can heat inter-effect liquor, generate clean steam to drive the first effect of the evaporator or may be used as a falling film evaporator body.
Optimizing Available

Technologies
Mixed-Technology Evaporation
LDX Solutions provides multiple effect evaporator technology for use in many different applications. Our system design is based on our extensive experience with both the modification of existing evaporators and building new installations. Each project is fully customized to the customer's process requirements. LDX Solutions will use a mix of available technologies to provide a system that optimizes cost, efficiency and reliability.
LDX Solutions supplies the Lundberg forced circulation crystallizer for evaporator systems where high solids are required. The system includes spiral tube inserts, which disrupt the boundary layer at the tube wall, causing turbulent flow in the tubes even at high viscosities. The advantages include high heater transfer coefficients, lower tube velocities, and a reduction in required horsepower compared with other high solids crystallizer designs.
LDX Solutions provides Lundberg black liquor concentrator systems reaching solids in excess of 80%. These systems may be stand-alone, integrated with a multiple effect evaporator system or integrated with a pre-evaporation system.
Flooded Forced

Circulation
LDX Solutions offers Lundberg flooded forced circulation (FFC), falling film or mixed falling film technologies depending upon our customer's needs. Integrating the concentrator into an evaporator system requires a careful balance between energy costs and capital cost. In the concentrator, the boiling point rise of the liquor becomes an important factor in equipment sizing and the ability to utilize the vapor at a given location in the evaporator system. Integration of a concentrator into an existing evaporator set complicates things even further. Lundberg engineers' factor all these issues into the design of the concentrator system to provide the mill with the most cost effective and economical system possible.
Crystallizer & Falling Film Body
LDX Solutions is unique in offering flooded forced circulation concentrator using Lundberg technology to the paper industry. This technology utilizes forced liquor circulation through the tube side of a heater with the liquor under a backpressure to prevent boiling. The superheated liquor is discharged into a flash tank (vapor head) where it is allowed to expand and equalize at a lower temperature. The change in temperature results in evaporation of water from the liquor. This process is particularly suited to liquors with a high scaling tendency since there is no change in composition of the liquor on the heating surface. Further, because the liquor is forced through the tubes, the tube bundle is flooded and there is no concern about liquor distribution.
Pre-evaporation systems utilize low-level waste heat to evaporate weak liquor prior to the main evaporator train. Three heat sources are most often utilized in a pre-evaporator system: heat from a blow heat system, heat from a standalone concentrator, or heat from a continuous digester extraction liquor flash tank. A Lundberg pre-evaporator can improve steam economy and/or increase evaporator capacity.
The Pre-Evaporator

System
Three heat sources are most often utilized in a pre-evaporator system: 
blow heat system

stand-alone concentrator

continuous digester extraction liquor flash tank 
The amount of evaporation achievable is dependent upon both the quantity of heat available and the number of effects in the system. Whenever a pre-evaporator is installed, its impact on the existing multiple effect evaporator system must be considered, in particular the effect of the higher feed solids.
Aside from using waste heat, one of the main advantages of a pre-evaporation system is condensate segregation. The pre-evaporator strips the bulk of the TRS and VOCs from the liquor resulting in an evaporator system condensate that is substantially cleaner.
3-Stage Pre-Evaporator System
Primary surface condenser
LDX Solutions provides Lundberg surface condenser systems as part of the overall Evaporator product group.
LDX Solutions supplies surface condensers for many different types of vapor and operating conditions. Our experience includes the design and supply of dirty steam condensers, foul condensate condensers, reflux condensers, organic vapor condensers, and condensers containing high percentages of non-condensable gases. Condensers may be designed on a "stand alone" basis or be integrated into a mass transfer column. Horizontal and vertical orientation designs are given consideration.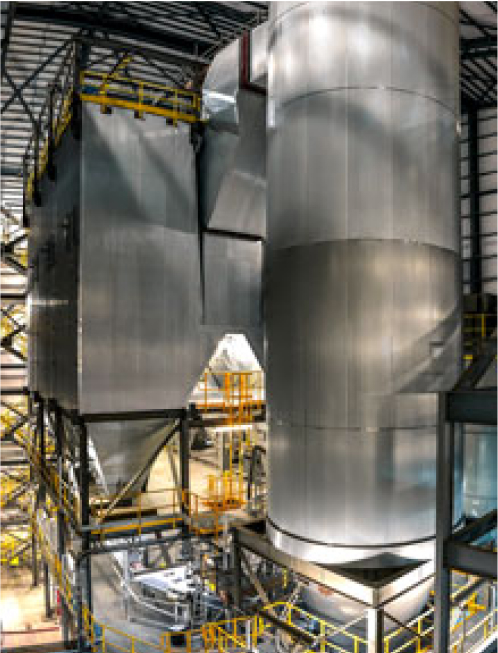 LDX Product & Solutions for a

Evaporators
Find out how LDX Solutions can Optimize your Industry
Further making us the best solution for your Chemical Processing needs is our unparalleled service & life-cycle support. See how our Aftermarket team can keep you online & make you more profitable, regardless of the equipment you currently use.